The Labor Day Championships wrapped up Sunday at Volusia Speedway Park with Florida Late Models, Thunderstocks, Compact 4's and a 602 Late Model All Stars.
Florida Late Models: The Florida Late Models Visited Volusia Speedway Park on Sunday to take a shot at a $1500 pay day. The 30-car field broke into four heat races filled with stories including a win in the first heat by 13-year-old Jackson Hise. Other Heat winners included Donnie Chappell, Jared Allison, and Joe Kump.
The B-Main would set the rest of the field with four cars transferring to the A. Winner David Clegg led flag to flag and secured his spot while Adam Bennett and Steve Shead rounded out the top three. The final transfer spot was taken by Steven Stratton who edged out Dennis Williams at the line by less than two feet.
The feature race saw Donnie Chappell (above) taking the early lead and Hise running second. In lapped traffic Hise kept pace with Chappell and when a late race caution came out with five laps to go it seemed as if Hise would get one more chance to challenge for the win. When the wreck was cleared Hise's car wouldn't crank and he was pushed to the pits. When the race restarted Chappell continued his dominance on the night and took the checkered flag followed by Chuck Comby and Joe Kump who rounded out the top three.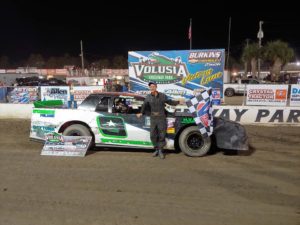 Thunderstocks: The Thunderstock cars came out to take a shot at $750 tonight at Volusia Speedway Park. Twenty Cars were split into two heat races won by Ron Adams and Bubba Christianson.
In the feature Hayden McCormick jumped out to an early lead and never looked back holding off challenges from Joe Belkey after multiple cautions and taking home the win and a nice payday! Joe Belkey was second and Bubba Christianson was third.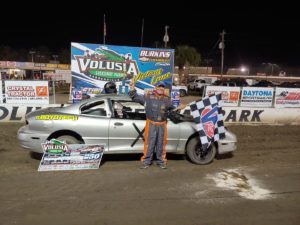 Compact 4's: Tonight's Compact 4 class at Volusia Speedway Park brought in 13 cars trying to win the $250 prize money. Chuck Frater and David Costello won their heat races and in the Feature it was all Chuck Frater leading flag-to-flag. John Pedaggi finished second and David Costello brought home third.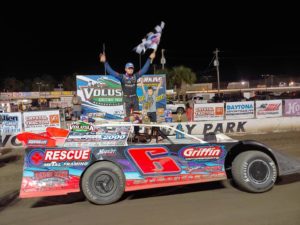 602 Late Model All Stars: The 602 Late Model All Stars brought the stars of late model racing to Volusia Speedway Park Sunday Night with 23 cars taking the green flag for the 30 lap Feature event! Fast time was set by Shane Riner setting him up for a pole position start. After a four wide salute to the fans outside pole sitter Trey Mills, the 12 year old driver of the number 14 car took the early lead. After multiple cautions and restarts Mikey Kopka took his turn out front leading until around 10 to go when Clay Harris, last nights winner of the VSP 602 Late Models, made the outside pass and had clear sailing to a victory and a $2000 payday. Trey Mills wasn't about to settle for third and with two laps left he used the cushion to pass Kopka and take the second position. Kopka went on to finish third and pole sitter Shane Riner was fourth.