Two-day Labor Day Championships at Volusia Speedway Park kicked off on Saturday with 602 Late Models, DIRTcar UMP Modifieds, Street Stocks and 3/4 Modifieds.
VSP 602 Late Models: The VSP 602 Late Models started off the show at VSP Saturday night. Heat race winners included Mikey Kopka, Trey Mills, and Gage Griffin setting the stage for a 27-car feature event.
Gage Griffin lead the early laps of the feature race putting several cars laps down but a mid race caution erased that lead and after two more cautions Griffin started to fade and Clay Harris (above) who started 9th drove it to the front and claimed the Victory and a cool $1,000 payday! Pole Sitter Bud Chancey hung on for second place and Trey Mills placed 3rd.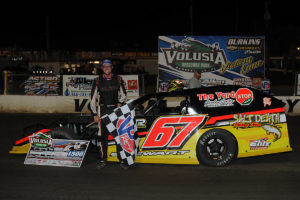 DIRTcar UMP Modifieds: The DIRTcar UMP Modifieds were back in action Saturday Night gunning for the $1,500 to win prize money. The heat races were packed with action as 35 cars took their shot to get into the A-Main. Clay Harris secured his spot winning the first heat and while Dale Kelley and Rich Pratt took home wins in the second and third heats.
The B-Main was the last chance for 11 racers to get the final four transfer spots into the A-Main. Kenny Mihalik led early but a late race spin sent him to the back ending his chances for a transfer spot. Jamie Carter assumed the lead but Ronnie Chance had the high line working and went on to take the win. Carter finished second, Patrick Vareika was third, and the final transfer spot went to Gregory Skyta.
In the A-Main it was all Seth Geary early. Geary had a comfortable lead most of the night but a late race caution allowed the pack to close the gap and put Garret Stewart back in contention for the win. After another caution with Stewart starting on the second row he was able to get around Geary and pull away from the pack keeping his win streak alive and banking $1,500.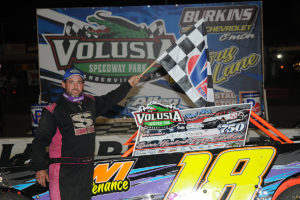 Street Stocks: The Street Stocks visited Volusia Speedway Park for a $750 to win showdown! The heat races had this writer wondering if this was 2020 or the 1980's as veteran racers David Showers Sr and Tuck Trentham took wins in heat one and two. Bubba Christian and David Showers Jr also won their heats.
With 33 cars there was definitely going to be a B-Main, which was led flag to flag by Sammy Hatcher. Alan Peacock took second and with a last lap pass Cory Hupp took the last transfer spot sending Josh Sanford home.
In the feature event, David Showers Jr. led flag to flag holding off challenges early from Tuck Trentham and a late race challenge from Joe Belkey winning $750 and a $250 bonus for being topless! Belkey went on to finish second and Livingood finished third. Both Belkey and Livingood also banked extra money for being topless!
3/4 Modifieds: The 3/4 Modi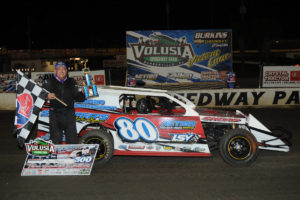 fieds were the final feature of the night. Paul Shead won the heat race and after being collected in an early wreck was able to hold off Tim Hogan to take the Feature Win and $300!