Federated Auto Parts DIRTcar Nationals
Thursday, February 16, 2023
Winner: Mat Williamson 2nd: Demetrios Drellos 3rd: Erick Rudolph
Event Info
Federated Auto Parts DIRTcar Nationals

2023-02-16
Volusia Speedway Park
1500 East State Road 40
Barberville, Florida 32130
Event Description
Kick off the racing season with two full weeks of racing in Florida at the World's Fastest Half-Mile, Volusia Speedway Park!
series Racing
Super DIRTcar Series
Feature Laps Length
30
Event Hashtag
#FLinFeb
Frequently Asked Questions
Type of Grandstand
Bleachers, Chairbacks
Stadium Seating
Stadium seats are allowed as long as they don't conflict with the aisle behind you.
Handicapped Seating
All Handicap seating is the first rows of each section
Handicapped Parking
Handicap parking spots available. All spots are first come first serve.
Pit Age Limit
There is no age restriction in the pits. Anyone 17 years of age or younger will need to fill out a minor waiver form and be accompanied by an adult.
Pit Gate Location
East or West side of the Track.
Personal Coolers
Six-pack maximum cooler size. No alcohol. No glass.
ATMs
1
Credit Card Use
Pit Gate, Ticket Window
Beer Sales
Beer is available for purchase at the track.
Smoking Policy
No smoking in the Grandstands.
Parking Cost
General Parking Free
Camping Availability
electric hookup, non-electric, onsite, sanitary facility, showers
Camping Cost
$25 a day for dry camping, $50 for hook-up, $75 for electric/water/sewer.
Closest Airport
Daytona International Airport
Other Airport
Orlando Sanford
Track Info
Track Phone
(386) 985-4402
Track Email
volusiaspeedway@dirtcar.com
Track Type
0.500; dirt oval
Sprint Car Track Record
12.569s by Paul McMahan on 2-10-11; 360 Sprint Car: 14.160 sec. by Brenham Crouch on Jan. 27, 2023; Non-Wing: 16.362s by Thomas Meseraull on Feb. 14, 2023
Late Model Track Record
Super: 15.141 sec. by Billy Moyer on Feb. 20, 2012
Big Block Modified Track Record
16.754s. by Jamie Mills in 2015
Race Recap
RISK REWARD: Mat Williamson wins night two of Federated Auto Parts DIRTcar Nationals
Williamson makes backstretch last lap pass for the lead, Drellos settles for second
Mat Williamson took a risk, and then received his reward.
The St. Catharines, ON driver made a last lap pass on the backstretch to take home the win on the second night of Super DIRTcar Series action at Federated Auto Parts DIRTcar Nationals.
It's his third DIRTcar Nationals Feature win and the first time he's won a golden gator trophy in back-to-back years.

Willamson started third in the 30-lap Feature but fell to fifth in the early stages of the race. At that point, he knew he had to do something different.
"Matt [Sheppard] got by us, Max [McLaughlin] was under us," Williamson said. "I just knew I had to do something different than what I was doing. I started driving really hard getting into Turn 3. That probably was the difference in the race."
After getting back by Sheppard and McLaughlin, he was relegated to the third-place running position for most of the Feature until he found his way to second with 11 laps to go. While he moved forward, Drellos' command of the lead began to fade.
With laps quickly ticking off the counter, Williamson knew he had to make a decision if he wanted a chance at taking home the victory and decided to bet on a risk.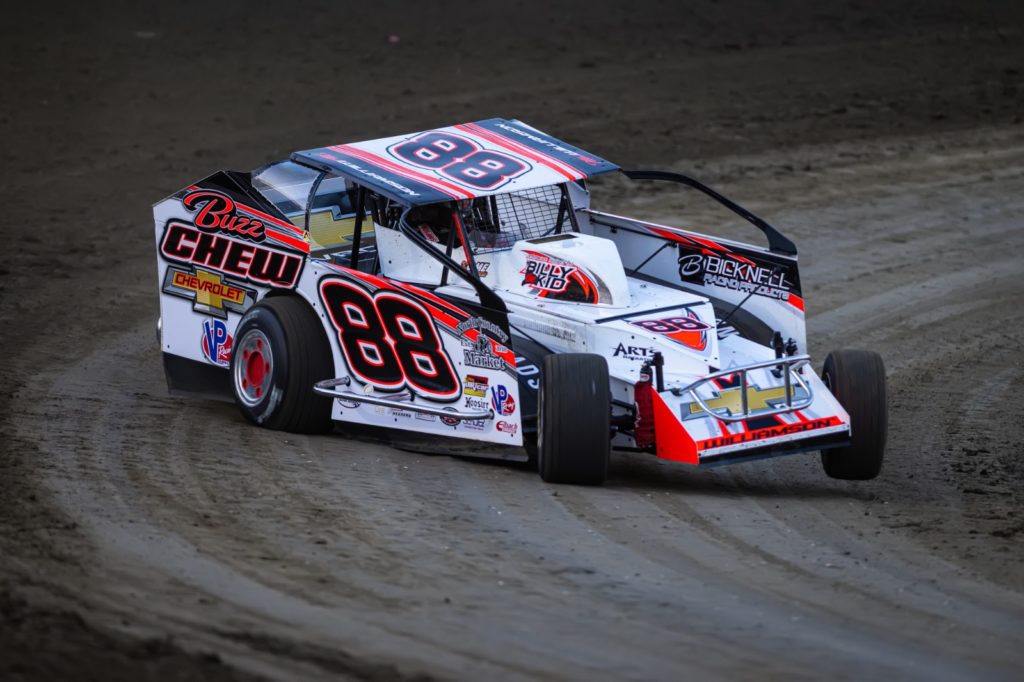 "[Drellos] was getting tight in (turn) one and (turn) two, and he would get up over the cushion," Williamson said. "So, he started getting hesitant. I really had nothing to lose so, I just threw it in on the bottom. I kind of turned my head to the right to make sure I was clear, gassed her up a little bit in the brown of the middle of the racetrack and cleared them enough that I could protect a slider going into (turn) three. I got lucky there."
Drellos' machine did not have enough juice to fend off Williamson's move, dropping him back to second.
"I missed the top a few times in a row, and Mat (Williamson) capitalized," Drellos said. "The last couple laps the car went away really bad. I think I really abused it the first 26 laps. He just snuck up on me and got me. It's a tough one."
As far as why his machine faded the way it did, Drellos will be working on finding out why.
"If I had that answer, I'd tell you," he said. "I think I just got a little snug. I couldn't rotate on the cushion as well as I think he did. I just missed it by a little bit."
Erick Rudolph of Ransomville, NY performed consistently for a second night in a row, finishing in third place behind Drellos. He just missed the podium on night one, finishing in fourth. Larry Wight was the hard charger of the night, moving up 18 spots to finish in fourth place.
Night one winner Max McLaughlin finished in fifth place.
UP NEXT: The Super DIRTcar Series Big Blocks are back in action Thursday, Feb. 16, at Volusia Speedway Park for another 30-lap, $5,000-to-win Federated Auto Parts DIRTcar Nationals matchup.
If you can't make it to the track, you can watch every Super DIRTcar Series race live on DIRTVision – either at DIRTVision.com or by downloading the DIRTVision App.
Feature Results (30 Laps) – 1. 88-Mat Williamson[3]; 2. 111-Demetrios Drellos[1]; 3. 25R-Erick Rudolph[2]; 4. 99L-Larry Wight[22]; 5. 8H-Max McLaughlin[9]; 6. 2L-Jack Lehner[4]; 7. 9S-Matt Sheppard[6]; 8. 44-Stewart Friesen[20]; 9. 98H-Jimmy Phelps[5]; 10. 21A-Peter Britten[7]; 11. 70A-Alex Payne[13]; 12. 9-Marc Johnson[16]; 13. 39C-Kyle Coffey[12]; 14. 7-Rick Laubach[8]; 15. 28-Jordan McCreadie[19]; 16. -Rich Scagliotta; 17. 8S-Richard Scagliotta[10]; 18. 16X-Dan Creeden[23]; 19. 14-CG Morey[25]; 20. R70-Ryan Arbuthnot[21]; 21. 25P-Michael Parent[18]; 22. 215-Adam Pierson[11]; 23. 15X-Justin Stone[26]; 24. 91-Felix Roy[17]; 25. 27J-Danny Johnson[14]; 26. 6S-Matthew Stangle[15]; 27. 30-HJ Bunting[24]
Results
Feature Results
| POS | Start | +/- | # | Driver | Laps | Behind | Led | Status | Points | Money |
| --- | --- | --- | --- | --- | --- | --- | --- | --- | --- | --- |
| 1 | 3 | +2 | 88 | Mat Williamson | 30 | 0.000 | 1 | Running | 0 | $5,000 |
| 2 | 1 | -1 | 111 | Demetrios Drellos | 30 | -0.335 | 29 | Running | 0 | $2,500 |
| 3 | 2 | -1 | 25R | Erick Rudolph | 30 | -10.557 | 0 | Running | 0 | $1,500 |
| 4 | 22 | +18 | 99L | Larry Wight | 30 | -12.023 | 0 | Running | 0 | $1,000 |
| 5 | 9 | +4 | 8H | Max McLaughlin | 30 | -12.376 | 0 | Running | 0 | $800 |
| 6 | 4 | -2 | 2L | Jack Lehner | 30 | -12.871 | 0 | Running | 0 | $700 |
| 7 | 6 | -1 | 9S | Matt Sheppard | 30 | -12.881 | 0 | Running | 0 | $650 |
| 8 | 20 | +12 | 44 | Stewart Friesen | 30 | -13.205 | 0 | Running | 0 | $600 |
| 9 | 5 | -4 | 98H | Jimmy Phelps | 30 | -14.612 | 0 | Running | 0 | $550 |
| 10 | 7 | -3 | 21A | Peter Britten | 30 | -14.846 | 0 | Running | 0 | $500 |
| 11 | 13 | +2 | 70A | Alex Payne | 30 | -15.526 | 0 | Running | 0 | $450 |
| 12 | 16 | +4 | 9 | Marc Johnson | 30 | -16.555 | 0 | Running | 0 | $400 |
| 13 | 12 | -1 | 39C | Kyle Coffey | 30 | -18.879 | 0 | Running | 0 | $375 |
| 14 | 8 | -6 | 7 | Rick Laubach | 29 | -1 Laps | 0 | Running | 0 | $350 |
| 15 | 19 | +4 | 28 | Jordan McCreadie | 29 | -1 Laps | 0 | Running | 0 | $350 |
| 16 | 0 | -16 | 8 | Rich Scagliotta | 29 | -1 Laps | 0 | Running | 0 | $350 |
| 17 | 10 | -7 | 8S | Richard Scagliotta | 29 | -1 Laps | 0 | Running | 0 | $350 |
| 18 | 23 | +5 | 16X | Dan Creeden | 29 | -1 Laps | 0 | Running | 0 | $350 |
| 19 | 25 | +6 | 14 | CG Morey | 29 | -1 Laps | 0 | Running | 0 | $350 |
| 20 | 21 | +1 | R70 | Ryan Arbuthnot | 29 | -1 Laps | 0 | Running | 0 | $350 |
| 21 | 18 | -3 | 25P | Michael Parent | 29 | -1 Laps | 0 | Running | 0 | $350 |
| 22 | 11 | -11 | 215 | Adam Pierson | 29 | -1 Laps | 0 | Running | 0 | $350 |
| 23 | 26 | +3 | 15X | Justin Stone | 29 | -1 Laps | 0 | Running | 0 | $350 |
| 24 | 17 | -7 | 91 | Felix Roy | 29 | -1 Laps | 0 | Running | 0 | $350 |
| 25 | 14 | -11 | 27J | Danny Johnson | 10 | -20 Laps | 0 | DNF | 0 | $350 |
| 26 | 15 | -11 | 6S | Matthew Stangle | 9 | -21 Laps | 0 | DNF | 0 | $350 |
| 27 | 24 | -3 | 30 | HJ Bunting | 5 | -25 Laps | 0 | DNF | 0 | $350 |
Hard Charger: Larry Wight
Last Chance Showdown Results
| POS | Start | +/- | # | Driver | Laps | Behind | Led | Status | Points | Money |
| --- | --- | --- | --- | --- | --- | --- | --- | --- | --- | --- |
| 1 | 1 | 0 | 44 | Stewart Friesen | 10 | 0.000 | 10 | Running | 0 | $0 |
| 2 | 4 | +2 | 99L | Larry Wight | 10 | -1.317 | 0 | Running | 0 | $0 |
| 3 | 3 | 0 | 33 | Louden Reimert | 10 | -3.830 | 0 | Running | 0 | $0 |
| 4 | 2 | -2 | 52 | Jessica Power | 10 | -8.624 | 0 | Running | 0 | $0 |
| 5 | 5 | 0 | 1 | Andrew Smith | 10 | -10.107 | 0 | Running | 0 | $0 |
| 6 | 6 | 0 | 90 | Dany Gagne | 10 | -10.831 | 0 | Running | 0 | $0 |
| 7 | 11 | +4 | 15X | Justin Stone | 10 | -12.027 | 0 | Running | 0 | $0 |
| 8 | 10 | +2 | 66M | Corbin Millar | 10 | -13.253 | 0 | Running | 0 | $0 |
| 9 | 8 | -1 | 118 | Jim Britt | 10 | -13.722 | 0 | Running | 0 | $0 |
| 10 | 7 | -3 | 35B | Francois Bellemare | 10 | -15.959 | 0 | Running | 0 | $0 |
| 11 | 9 | -2 | 21 | Yan Bussiere | 10 | -16.269 | 0 | Running | 0 | $0 |
| 12 | 0 | -12 | 12S | Darren Smith | 0 | -10 Laps | 0 | DNS | 0 | $0 |
Last Chance Showdown 2 Results
| POS | Start | +/- | # | Driver | Laps | Behind | Led | Status | Points | Money |
| --- | --- | --- | --- | --- | --- | --- | --- | --- | --- | --- |
| 1 | 4 | +3 | R70 | Ryan Arbuthnot | 10 | 0.000 | 1 | Running | 0 | $0 |
| 2 | 1 | -1 | 16X | Dan Creeden | 10 | -0.427 | 9 | Running | 0 | $0 |
| 3 | 5 | +2 | 54 | Steve Bernard | 10 | -3.208 | 0 | Running | 0 | $0 |
| 4 | 3 | -1 | 32R | Ronnie Davis III | 10 | -4.567 | 0 | Running | 0 | $0 |
| 5 | 6 | +1 | 14 | CG Morey | 10 | -5.518 | 0 | Running | 0 | $0 |
| 6 | 2 | -4 | 30 | HJ Bunting | 10 | -8.585 | 0 | Running | 0 | $0 |
| 7 | 9 | +2 | 66D | Kyle Dingwall | 10 | -9.176 | 0 | Running | 0 | $0 |
| 8 | 11 | +3 | 60 | Brian Berger | 10 | -10.310 | 0 | Running | 0 | $0 |
| 9 | 8 | -1 | 9T | Will Thomas | 10 | -11.711 | 0 | Running | 0 | $0 |
| 10 | 10 | 0 | 66S | Dexter Stacey | 0 | -10 Laps | 0 | DNS | 0 | $0 |
| 11 | 7 | -4 | 44R | Russell Morseman | 0 | -10 Laps | 0 | Running | 0 | $0 |
Heat 1 Results
| Pos. | Start | +/- | # | Driver | Hometown | Difference |
| --- | --- | --- | --- | --- | --- | --- |
| 1 | 1 | 0 | 88 | Mat Williamson | St. Catharines, ON | 0.000 |
| 2 | 2 | 0 | 9S | Matt Sheppard | Waterloo, NY | -0.514 |
| 3 | 3 | 0 | 8H | Max McLaughlin | Mooresville, NC | -0.976 |
| 4 | 5 | +1 | 39C | Kyle Coffey | Caledonia, NY | -2.167 |
| 5 | 6 | +1 | 9 | Marc Johnson | Guilderland, NY | -3.287 |
| 6 | 11 | +5 | 44 | Stewart Friesen | Sprakers, NY | -3.880 |
| 7 | 7 | 0 | 33 | Louden Reimert | Oley, PA | -4.693 |
| 8 | 9 | +1 | 1 | Andrew Smith | Lockport, NY | -6.551 |
| 9 | 10 | +1 | 35B | Francois Bellemare | Trois Rivieres, QC | -8.081 |
| 10 | 8 | -2 | 118 | Jim Britt | New Town Square, PA | -8.759 |
| 11 | 4 | -7 | 21 | Yan Bussiere | Drummondville, QC | -8.759 |
Heat 2 Results
| Pos. | Start | +/- | # | Driver | Hometown | Difference |
| --- | --- | --- | --- | --- | --- | --- |
| 1 | 1 | 0 | 7 | Rick Laubach | Quakertown, PA | 0.000 |
| 2 | 3 | +1 | 111 | Demetrios Drellos | Queensbury, NY | -2.316 |
| 3 | 5 | +2 | 8S | Richard Scagliotta | Bound Brook, NJ | -2.659 |
| 4 | 7 | +3 | 70A | Alex Payne | Canandaigua, NY | -3.869 |
| 5 | 8 | +3 | 91 | Felix Roy | Napierville, QC | -5.561 |
| 6 | 9 | +3 | 52 | Jessica Power | Kingston, ON | -5.799 |
| 7 | 6 | -1 | 99L | Larry Wight | Fulton, NY | -6.454 |
| 8 | 10 | +2 | 90 | Dany Gagne | Chateguay, QC | -7.529 |
| 9 | 2 | -7 | 15X | Justin Stone | Middlebury, VT | 32.635 |
| 10 | 4 | -6 | 66M | Corbin Millar | Perth, ON | 257.072 |
Heat 3 Results
| Pos. | Start | +/- | # | Driver | Hometown | Difference |
| --- | --- | --- | --- | --- | --- | --- |
| 1 | 1 | 0 | 25R | Erick Rudolph | Ransomville, NY | 0.000 |
| 2 | 2 | 0 | 21A | Peter Britten | Brisbane, QLD | -4.505 |
| 3 | 3 | 0 | 12S | Darren Smith | Binghamton, NY | -6.436 |
| 4 | 7 | +3 | 27J | Danny Johnson | Phelps, NY | -9.098 |
| 5 | 4 | -1 | 25P | Michael Parent | Granby, QC | -9.973 |
| 6 | 9 | +3 | 16X | Dan Creeden | Middletown, NY | -11.098 |
| 7 | 6 | -1 | 32R | Ronnie Davis III | Syracuse, NY | -11.865 |
| 8 | 8 | 0 | 54 | Steve Bernard | Granby, QC | -12.204 |
| 9 | 11 | +2 | 44R | Russell Morseman | Addison, NY | -13.493 |
| 10 | 10 | 0 | 66D | Kyle Dingwall | Williamstown, ON | -13.972 |
| 11 | 5 | -6 | 60 | Brian Berger | Castleton, NY | -15.076 |
Heat 4 Results
| Pos. | Start | +/- | # | Driver | Hometown | Difference |
| --- | --- | --- | --- | --- | --- | --- |
| 1 | 1 | 0 | 98H | Jimmy Phelps | Baldwinsville, NY | 0.000 |
| 2 | 2 | 0 | 2L | Jack Lehner | Saratoga Springs, NY | -1.214 |
| 3 | 3 | 0 | 215 | Adam Pierson | East Corinth, VT | -3.142 |
| 4 | 4 | 0 | 6S | Matthew Stangle | Alpha, NJ | -6.474 |
| 5 | 6 | +1 | 28 | Jordan McCreadie | Watertown, NY | -7.305 |
| 6 | 7 | +1 | 30 | HJ Bunting | Milford, DE | -9.005 |
| 7 | 8 | +1 | R70 | Ryan Arbuthnot | Renfrew, ON | -9.376 |
| 8 | 9 | +1 | 14 | CG Morey | Rutland, VT | -10.311 |
| 9 | 5 | -4 | 9T | Will Thomas | Sharpsville, PA | -11.205 |
| 10 | 10 | 0 | 66S | Dexter Stacey | Kahnawake, QC | -11.912 |
Qualifying Flight 1 Results
| POS | Start | Car | Driver | Time | Difference |
| --- | --- | --- | --- | --- | --- |
| 1 | 10 | 88 | Mat Williamson | 17.217 | 0.000 |
| 2 | 2 | 7 | Rick Laubach | 17.218 | -0.001 |
| 3 | 11 | 9S | Matt Sheppard | 17.348 | -0.131 |
| 4 | 1 | 15X | Justin Stone | 17.378 | -0.161 |
| 5 | 12 | 8H | Max McLaughlin | 17.390 | -0.173 |
| 6 | 5 | 111 | Demetrios Drellos | 17.502 | -0.285 |
| 7 | 9 | 21 | Yan Bussiere | 17.556 | -0.339 |
| 8 | 4 | 66M | Corbin Millar | 17.591 | -0.374 |
| 9 | 7 | 39C | Kyle Coffey | 17.617 | -0.400 |
| 10 | 21 | 8S | Richard Scagliotta | 17.700 | -0.483 |
| 11 | 17 | 9 | Marc Johnson | 17.797 | -0.580 |
| 12 | 15 | 99L | Larry Wight | 17.803 | -0.586 |
| 13 | 8 | 33 | Louden Reimert | 17.816 | -0.599 |
| 14 | 16 | 70A | Alex Payne | 17.839 | -0.622 |
| 15 | 3 | 118 | Jim Britt | 17.888 | -0.671 |
| 16 | 20 | 91 | Felix Roy | 17.903 | -0.686 |
| 17 | 18 | 1 | Andrew Smith | 18.010 | -0.793 |
| 18 | 19 | 52 | Jessica Power | 18.251 | -1.034 |
| 19 | 13 | 35B | Francois Bellemare | 18.492 | -1.275 |
| 20 | 6 | 90 | Dany Gagne | 18.645 | -1.428 |
| 21 | 14 | 44 | Stewart Friesen | 18.645 | -1.428 |
Qualifying Flight 2 Results
| POS | Start | Car | Driver | Time | Difference |
| --- | --- | --- | --- | --- | --- |
| 1 | 9 | 25R | Erick Rudolph | 17.456 | 0.000 |
| 2 | 8 | 98H | Jimmy Phelps | 17.480 | -0.024 |
| 3 | 6 | 21A | Peter Britten | 17.485 | -0.029 |
| 4 | 14 | 2L | Jack Lehner | 17.602 | -0.146 |
| 5 | 2 | 12S | Darren Smith | 17.709 | -0.253 |
| 6 | 19 | 215 | Adam Pierson | 17.740 | -0.284 |
| 7 | 5 | 25P | Michael Parent | 17.853 | -0.397 |
| 8 | 1 | 6S | Matthew Stangle | 17.939 | -0.483 |
| 9 | 10 | 60 | Brian Berger | 18.044 | -0.588 |
| 10 | 12 | 9T | Will Thomas | 18.057 | -0.601 |
| 11 | 11 | 32R | Ronnie Davis III | 18.067 | -0.611 |
| 12 | 4 | 28 | Jordan McCreadie | 18.070 | -0.614 |
| 13 | 20 | 27J | Danny Johnson | 18.112 | -0.656 |
| 14 | 7 | 30 | HJ Bunting | 18.121 | -0.665 |
| 15 | 13 | 54 | Steve Bernard | 18.140 | -0.684 |
| 16 | 18 | R70 | Ryan Arbuthnot | 18.148 | -0.692 |
| 17 | 17 | 16X | Dan Creeden | 18.294 | -0.838 |
| 18 | 16 | 14 | CG Morey | 18.382 | -0.926 |
| 19 | 15 | 66D | Kyle Dingwall | 18.507 | -1.051 |
| 20 | 21 | 66S | Dexter Stacey | 18.796 | -1.340 |
| 21 | 3 | 44R | Russell Morseman | 18.796 | -1.340 |
Hot Laps 1 Results
| POS | Start | Car | Driver | Time | Difference |
| --- | --- | --- | --- | --- | --- |
| 1 | 5 | 111 | Demetrios Drellos | 19.139 | 0.000 |
| 2 | 11 | 9S | Matt Sheppard | 19.470 | -0.331 |
| 3 | 8 | 33 | Louden Reimert | 19.594 | -0.455 |
| 4 | 1 | 15X | Justin Stone | 19.648 | -0.509 |
| 5 | 9 | 21 | Yan Bussiere | 19.677 | -0.538 |
| 6 | 7 | 39C | Kyle Coffey | 19.773 | -0.634 |
| 7 | 2 | 7 | Rick Laubach | 19.902 | -0.763 |
| 8 | 3 | 118 | Jim Britt | 20.121 | -0.982 |
| 9 | 10 | 88 | Mat Williamson | 20.207 | -1.068 |
| 10 | 4 | 66M | Corbin Millar | 20.309 | -1.170 |
| 11 | 6 | 90 | Dany Gagne | 20.526 | -1.387 |
Hot Laps 2 Results
| POS | Start | Car | Driver | Time | Difference |
| --- | --- | --- | --- | --- | --- |
| 1 | 1 | 8H | Max McLaughlin | 18.121 | 0.000 |
| 2 | 6 | 9 | Marc Johnson | 18.312 | -0.191 |
| 3 | 4 | 99L | Larry Wight | 18.857 | -0.736 |
| 4 | 5 | 70A | Alex Payne | 18.863 | -0.742 |
| 5 | 0 | 8 | Rich Scagliotta | 18.879 | -0.758 |
| 6 | 10 | 8S | Richard Scagliotta | 18.879 | -0.758 |
| 7 | 7 | 1 | Andrew Smith | 18.914 | -0.793 |
| 8 | 9 | 91 | Felix Roy | 19.003 | -0.882 |
| 9 | 2 | 35B | Francois Bellemare | 19.392 | -1.271 |
| 10 | 8 | 52 | Jessica Power | 19.452 | -1.331 |
| 11 | 3 | 44 | Stewart Friesen | 19.452 | -1.331 |
Hot Laps 3 Results
| POS | Start | Car | Driver | Time | Difference |
| --- | --- | --- | --- | --- | --- |
| 1 | 9 | 25R | Erick Rudolph | 17.748 | 0.000 |
| 2 | 6 | 21A | Peter Britten | 17.764 | -0.016 |
| 3 | 8 | 98H | Jimmy Phelps | 17.898 | -0.150 |
| 4 | 2 | 12S | Darren Smith | 18.614 | -0.866 |
| 5 | 5 | 25P | Michael Parent | 18.722 | -0.974 |
| 6 | 10 | 60 | Brian Berger | 18.791 | -1.043 |
| 7 | 4 | 28 | Jordan McCreadie | 18.849 | -1.101 |
| 8 | 7 | 30 | HJ Bunting | 19.167 | -1.419 |
| 9 | 1 | 6S | Matthew Stangle | 19.167 | -1.419 |
| 10 | 11 | 66S | Dexter Stacey | 19.167 | -1.419 |
| 11 | 3 | 44R | Russell Morseman | 19.167 | -1.419 |
Hot Laps 4 Results
| POS | Start | Car | Driver | Time | Difference |
| --- | --- | --- | --- | --- | --- |
| 1 | 10 | 27J | Danny Johnson | 17.596 | 0.000 |
| 2 | 9 | 215 | Adam Pierson | 17.746 | -0.150 |
| 3 | 4 | 2L | Jack Lehner | 17.811 | -0.215 |
| 4 | 1 | 32R | Ronnie Davis III | 18.035 | -0.439 |
| 5 | 8 | R70 | Ryan Arbuthnot | 18.125 | -0.529 |
| 6 | 5 | 66D | Kyle Dingwall | 18.130 | -0.534 |
| 7 | 2 | 9T | Will Thomas | 18.288 | -0.692 |
| 8 | 3 | 54 | Steve Bernard | 18.294 | -0.698 |
| 9 | 7 | 16X | Dan Creeden | 18.297 | -0.701 |
| 10 | 6 | 14 | CG Morey | 18.306 | -0.710 |