Federated Auto Parts DIRTcar Nationals
Wednesday, February 15, 2023
Winner: Max McLaughlin 2nd: Matt Sheppard 3rd: Stewart Friesen
Event Info
Federated Auto Parts DIRTcar Nationals

2023-02-15
Volusia Speedway Park
1500 East State Road 40
Barberville, Florida 32130
Event Description
Kick off the racing season with two full weeks of racing in Florida at the World's Fastest Half-Mile, Volusia Speedway Park!
series Racing
Super DIRTcar Series DIRTcar Late Models
Feature Laps Length
30
Event Hashtag
#FLinFeb
Frequently Asked Questions
support_divisions
DIRTcar Late Models
Type of Grandstand
Bleachers, Chairbacks
Stadium Seating
Stadium seats are allowed as long as they don't conflict with the aisle behind you.
Handicapped Seating
All Handicap seating is the first rows of each section
Handicapped Parking
Handicap parking spots available. All spots are first come first serve.
Pit Age Limit
There is no age restriction in the pits. Anyone 17 years of age or younger will need to fill out a minor waiver form and be accompanied by an adult.
Pit Gate Location
East or West side of the Track.
Personal Coolers
Six-pack maximum cooler size. No alcohol. No glass.
ATMs
1
Credit Card Use
Pit Gate, Ticket Window
Beer Sales
Beer is available for purchase at the track.
Smoking Policy
No smoking in the Grandstands.
Parking Cost
General Parking Free
Camping Availability
electric hookup, non-electric, onsite, sanitary facility, showers
Camping Cost
$25 a day for dry camping, $50 for hook-up, $75 for electric/water/sewer.
Closest Airport
Daytona International Airport
Other Airport
Orlando Sanford
Track Info
Track Phone
(386) 985-4402
Track Email
volusiaspeedway@dirtcar.com
Track Type
0.500; dirt oval
Sprint Car Track Record
12.569s by Paul McMahan on 2-10-11; 360 Sprint Car: 14.160 sec. by Brenham Crouch on Jan. 27, 2023; Non-Wing: 16.362s by Thomas Meseraull on Feb. 14, 2023
Late Model Track Record
Super: 15.141 sec. by Billy Moyer on Feb. 20, 2012
Big Block Modified Track Record
16.754s. by Jamie Mills in 2015
Race Recap
RIGHT START: Max McLaughlin Opens Season With DIRTcar Nationals Win
Max McLaughlin opened the 2023 Super DIRTcar Series season at the Federated Auto Parts DIRTcar Nationals exactly how he wanted.
In Victory Lane at Volusia Speedway Park.
The Mooresville, NC driver led all 30 laps in the first Super DIRTcar Series Feature of the year after drawing the outside pole.
McLaughlin, 22, is no stranger to racing at Volusia or visiting the track's Victory Lane. He came into the night's matchup with two career DIRTcar Nationals Feature victories already and a Big Gator championship (2021).
After charging past pole sitter Erick Rudolph at the start of the Feature, he steadily distanced himself from the rest of the field and became the driver to catch. Nine-time and defending Series champion Matt Sheppard was the strongest threat to challenge him, charging from seventh to second after two laps.
"I was actually able to roll the bottom pretty good, better than some of the guys in front of me," Sheppard said. "I was just able to sneak by really quick."
He continued to chase McLaughlin with little time to spare. And with 10 laps to go, an error by McLaughlin almost played into "Super" Matt's hands. While reaching to pull one tear off from his helmet, McLaughlin accidentally pulled all of them. As clay splatter on his visor each lap, visibility became an issue, causing him to jump the cushion in the closing laps.

Sheppard cut a few tenths of a second into McLaughlin's lead but still didn't have enough to catch "Mad Max."
"Not quite enough for Max at the end, but we could certainly see him," Sheppard said.
McLaughlin crossed the finish line first, winning his third career golden gator trophy.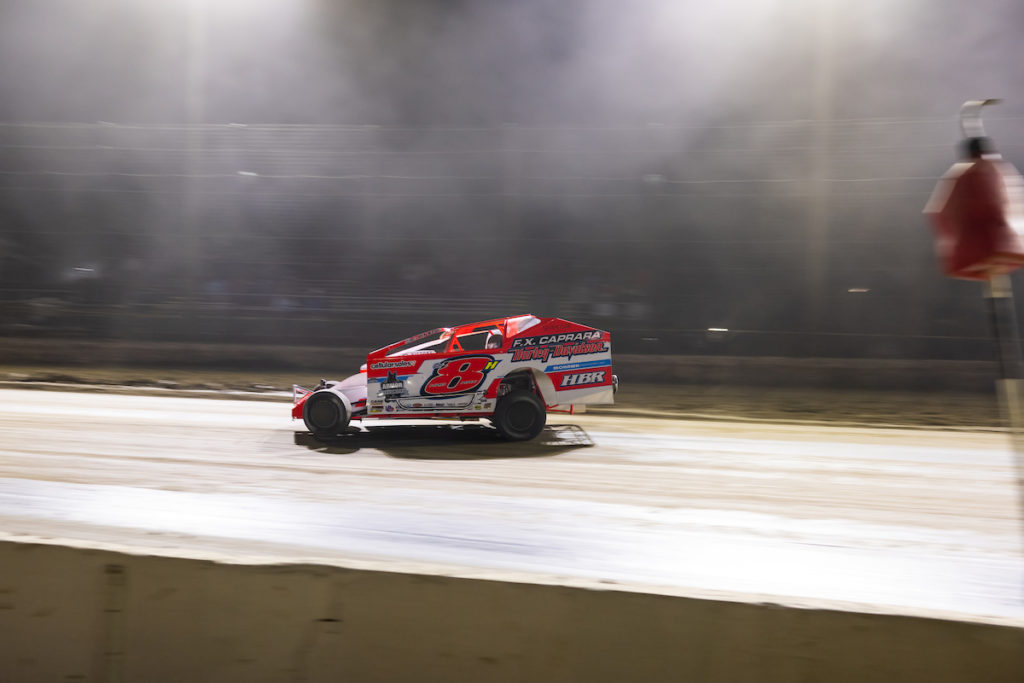 "I was pretty tight there at the end," McLaughlin said. "Definitely would have like to be a little freer to the center. I just caught good breaks and got through lapped traffic pretty good. I was just able to stay out front. It's pretty cool to get the first win right off the bat. First start, first win. We've been working hard and have a great time behind us."
While he was fending off a charging Sheppard, Stewart Friesen was also attempting to charge his way through the pack. After starting on the outside of row three, he made his way into third place by Lap 7. But after taking a risk in where he chose to run failed he had to settle for third.
"We just got bottled up more or less on the top," Friesen said.  "It took us a couple laps to get clear. I just made a couple mistakes once we got to third and lost some track position. It felt pretty decent the last few laps but we were just too far back."
Friesen finished in third, Erick Rudolph finished in fourth, and Demetrios Drellos finished in fifth.
UP NEXT: The Super DIRTcar Series Big Blocks are back in action Thursday, Feb. 16, at Volusia Speedway Park for another 30-lap, $5,000-to-win Federated Auto Parts DIRTcar Nationals matchup.
If you can't make it to the track, you can watch every Super DIRTcar Series race live on DIRTVision – either at DIRTVision.com or by downloading the DIRTVision App.
RESULTS: (30 Laps) – 1. 8H-Max McLaughlin[2]; 2. 9S-Matt Sheppard[7]; 3. 44-Stewart Friesen[6]; 4. 25R-Erick Rudolph[1]; 5. 111-Demetrios Drellos[5]; 6. 88-Mat Williamson[8]; 7. 2L-Jack Lehner[10]; 8. 27J-Danny Johnson[11]; 9. 9-Marc Johnson[4]; 10. 99L-Larry Wight[17]; 11. 98H-Jimmy Phelps[3]; 12. 7-Rick Laubach[13]; 13. 6S-Matthew Stangle[12]; 14. 21A-Peter Britten[21]; 15. 16X-Dan Creeden[18]; 16. 12S-Darren Smith[14]; 17. 30-HJ Bunting[9]; 18. R70-Ryan Arbuthnot[19]; 19. 28-Jordan McCreadie[24]; 20. 14-CG Morey[20]; 21. 15X-Justin Stone[26]; 22. 32R-Ronnie Davis III[23]; 23. 39C-Kyle Coffey[22]; 24. 70A-Alex Payne[15]; 25. 25P-Michael Parent[16]; 26. 33-Louden Reimert[25]
Results
Feature Results
| POS | Start | +/- | # | Driver | Laps | Behind | Led | Status | Points | Money |
| --- | --- | --- | --- | --- | --- | --- | --- | --- | --- | --- |
| 1 | 2 | +1 | 8H | Max McLaughlin | 30 | 0.000 | 30 | Running | 0 | $5,000 |
| 2 | 7 | +5 | 9S | Matt Sheppard | 30 | -1.299 | 0 | Running | 0 | $2,500 |
| 3 | 6 | +3 | 44 | Stewart Friesen | 30 | -5.133 | 0 | Running | 0 | $1,500 |
| 4 | 1 | -3 | 25R | Erick Rudolph | 30 | -7.835 | 0 | Running | 0 | $1,000 |
| 5 | 5 | 0 | 111 | Demetrios Drellos | 30 | -10.397 | 0 | Running | 0 | $800 |
| 6 | 8 | +2 | 88 | Mat Williamson | 30 | -10.675 | 0 | Running | 0 | $700 |
| 7 | 10 | +3 | 2L | Jack Lehner | 30 | -11.261 | 0 | Running | 0 | $650 |
| 8 | 11 | +3 | 27J | Danny Johnson | 30 | -12.510 | 0 | Running | 0 | $600 |
| 9 | 4 | -5 | 9 | Marc Johnson | 30 | -13.270 | 0 | Running | 0 | $550 |
| 10 | 17 | +7 | 99L | Larry Wight | 30 | -13.697 | 0 | Running | 0 | $500 |
| 11 | 3 | -8 | 98H | Jimmy Phelps | 30 | -16.037 | 0 | Running | 0 | $450 |
| 12 | 13 | +1 | 7 | Rick Laubach | 30 | -17.010 | 0 | Running | 0 | $400 |
| 13 | 12 | -1 | 6S | Matthew Stangle | 30 | -17.947 | 0 | Running | 0 | $375 |
| 14 | 21 | +7 | 21A | Peter Britten | 30 | -18.284 | 0 | Running | 0 | $350 |
| 15 | 18 | +3 | 16X | Dan Creeden | 30 | -19.248 | 0 | Running | 0 | $350 |
| 16 | 14 | -2 | 12S | Darren Smith | 30 | -19.894 | 0 | Running | 0 | $350 |
| 17 | 9 | -8 | 30 | HJ Bunting | 29 | -1 Laps | 0 | Running | 0 | $350 |
| 18 | 19 | +1 | R70 | Ryan Arbuthnot | 29 | -1 Laps | 0 | Running | 0 | $350 |
| 19 | 24 | +5 | 28 | Jordan McCreadie | 29 | -1 Laps | 0 | Running | 0 | $350 |
| 20 | 20 | 0 | 14 | CG Morey | 29 | -1 Laps | 0 | Running | 0 | $350 |
| 21 | 26 | +5 | 15X | Justin Stone | 29 | -1 Laps | 0 | Running | 0 | $350 |
| 22 | 23 | +1 | 32R | Ronnie Davis III | 24 | -6 Laps | 0 | DNF | 0 | $350 |
| 23 | 22 | -1 | 39C | Kyle Coffey | 20 | -10 Laps | 0 | DNF | 0 | $350 |
| 24 | 15 | -9 | 70A | Alex Payne | 16 | -14 Laps | 0 | DNF | 0 | $350 |
| 25 | 16 | -9 | 25P | Michael Parent | 1 | -29 Laps | 0 | DNF | 0 | $350 |
| 26 | 25 | -1 | 33 | Louden Reimert | 1 | -29 Laps | 0 | DNF | 0 | $350 |
Hard Charger: Larry Wight
Last Chance Showdown Results
| POS | Start | +/- | # | Driver | Laps | Behind | Led | Status | Points | Money |
| --- | --- | --- | --- | --- | --- | --- | --- | --- | --- | --- |
| 1 | 2 | +1 | 21A | Peter Britten | 10 | 0.000 | 8 | Running | 0 | $0 |
| 2 | 1 | -1 | 32R | Ronnie Davis III | 10 | -3.812 | 2 | Running | 0 | $0 |
| 3 | 7 | +4 | 33 | Louden Reimert | 10 | -6.101 | 0 | Running | 0 | $0 |
| 4 | 3 | -1 | 60 | Brian Berger | 10 | -6.964 | 0 | Running | 0 | $75 |
| 5 | 5 | 0 | 54 | Steve Bernard | 10 | -7.043 | 0 | Running | 0 | $75 |
| 6 | 6 | 0 | 21 | Yan Bussiere | 10 | -9.587 | 0 | Running | 0 | $75 |
| 7 | 4 | -3 | 44R | Russell Morseman | 5 | -5 Laps | 0 | Running | 0 | $75 |
| 8 | 8 | 0 | 9T | Will Thomas | 3 | -7 Laps | 0 | Running | 0 | $75 |
| 9 | 11 | +2 | 66S | Dexter Stacey | 1 | -9 Laps | 0 | Running | 0 | $75 |
| 10 | 10 | 0 | 215 | Adam Pierson | 0 | -10 Laps | 0 | DNS | 0 | $75 |
| 11 | 9 | -2 | 1 | Andrew Smith | 0 | -10 Laps | 0 | DNS | 0 | $75 |
Last Chance Showdown 2 Results
| POS | Start | +/- | # | Driver | Laps | Behind | Led | Status | Points | Money |
| --- | --- | --- | --- | --- | --- | --- | --- | --- | --- | --- |
| 1 | 1 | 0 | 39C | Kyle Coffey | 10 | 0.000 | 10 | Running | 0 | $0 |
| 2 | 4 | +2 | 28 | Jordan McCreadie | 10 | -2.127 | 0 | Running | 0 | $0 |
| 3 | 2 | -1 | 15X | Justin Stone | 10 | -4.855 | 0 | Running | 0 | $0 |
| 4 | 5 | +1 | 66M | Corbin Millar | 10 | -6.716 | 0 | Running | 0 | $75 |
| 5 | 7 | +2 | 91 | Felix Roy | 10 | -7.797 | 0 | Running | 0 | $75 |
| 6 | 10 | +4 | 52 | Jessica Power | 10 | -8.836 | 0 | Running | 0 | $75 |
| 7 | 0 | -7 | 66S | Dexter Stacey | 10 | -8.836 | 0 | Running | 0 | $75 |
| 8 | 9 | +1 | 35B | Francois Bellemare | 10 | -9.785 | 0 | Running | 0 | $75 |
| 9 | 3 | -6 | 8S | Richard Scagliotta | 1 | -9 Laps | 0 | DNF | 0 | $75 |
| 10 | 8 | -2 | 118 | Jim Britt | 1 | -9 Laps | 0 | DNF | 0 | $75 |
| 11 | 6 | -5 | 90 | Dany Gagne | 1 | -9 Laps | 0 | DNF | 0 | $75 |
Heat 1 Results
| Pos. | Start | +/- | # | Driver | Hometown | Difference |
| --- | --- | --- | --- | --- | --- | --- |
| 1 | 1 | 0 | 44 | Stewart Friesen | Sprakers, NY | 0.000 |
| 2 | 2 | 0 | 8H | Max McLaughlin | Mooresville, NC | -2.311 |
| 3 | 4 | +1 | 30 | HJ Bunting | Milford, DE | -4.582 |
| 4 | 3 | -1 | 7 | Rick Laubach | Quakertown, PA | -5.148 |
| 5 | 5 | 0 | 99L | Larry Wight | Fulton, NY | -5.983 |
| 6 | 7 | +1 | 32R | Ronnie Davis III | Syracuse, NY | -9.581 |
| 7 | 6 | -1 | 60 | Brian Berger | Castleton, NY | -10.630 |
| 8 | 9 | +1 | 54 | Steve Bernard | Granby, QC | -11.025 |
| 9 | 10 | +1 | 33 | Louden Reimert | Oley, PA | -6 Laps |
| 10 | 8 | -2 | 1 | Andrew Smith | Lockport, NY | -8 Laps |
Heat 2 Results
| Pos. | Start | +/- | # | Driver | Hometown | Difference |
| --- | --- | --- | --- | --- | --- | --- |
| 1 | 1 | 0 | 98H | Jimmy Phelps | Baldwinsville, NY | 0.000 |
| 2 | 2 | 0 | 111 | Demetrios Drellos | Queensbury, NY | -1.203 |
| 3 | 5 | +2 | 27J | Danny Johnson | Phelps, NY | -1.807 |
| 4 | 7 | +3 | 70A | Alex Payne | Canandaigua, NY | -4.950 |
| 5 | 6 | +1 | R70 | Ryan Arbuthnot | Renfrew, ON | -6.073 |
| 6 | 3 | -3 | 21A | Peter Britten | Brisbane, QLD | -6.324 |
| 7 | 10 | +3 | 44R | Russell Morseman | Addison, NY | -7.755 |
| 8 | 4 | -4 | 21 | Yan Bussiere | Drummondville, QC | -9.258 |
| 9 | 9 | 0 | 9T | Will Thomas | Sharpsville, PA | -8 Laps |
| 10 | 8 | -2 | 215 | Adam Pierson | East Corinth, VT | -8 Laps |
Heat 3 Results
| Pos. | Start | +/- | # | Driver | Hometown | Difference |
| --- | --- | --- | --- | --- | --- | --- |
| 1 | 1 | 0 | 88 | Mat Williamson | St. Catharines, ON | 0.000 |
| 2 | 2 | 0 | 9S | Matt Sheppard | Waterloo, NY | -1.400 |
| 3 | 3 | 0 | 2L | Jack Lehner | Saratoga Springs, NY | -1.945 |
| 4 | 4 | 0 | 12S | Darren Smith | Binghamton, NY | -5.184 |
| 5 | 7 | +2 | 16X | Dan Creeden | Middletown, NY | -6.113 |
| 6 | 8 | +2 | 39C | Kyle Coffey | Caledonia, NY | -6.640 |
| 7 | 5 | -2 | 8S | Richard Scagliotta | Bound Brook, NJ | -8.638 |
| 8 | 6 | -2 | 66M | Corbin Millar | Perth, ON | -9.310 |
| 9 | 9 | 0 | 91 | Felix Roy | Napierville, QC | -10.986 |
| 10 | 0 | -10 | 28 | Jordan McCreadie | Watertown, NY | -12.005 |
| 11 | 10 | -1 | 52 | Jessica Power | Kingston, ON | -12.005 |
| 12 | 11 | -1 | 66S | Dexter Stacey | Kahnawake, QC | -12.005 |
Heat 4 Results
| Pos. | Start | +/- | # | Driver | Hometown | Difference |
| --- | --- | --- | --- | --- | --- | --- |
| 1 | 1 | 0 | 25R | Erick Rudolph | Ransomville, NY | 0.000 |
| 2 | 2 | 0 | 9 | Marc Johnson | Guilderland, NY | -3.131 |
| 3 | 4 | +1 | 6S | Matthew Stangle | Alpha, NJ | -3.694 |
| 4 | 3 | -1 | 25P | Michael Parent | Granby, QC | -5.340 |
| 5 | 6 | +1 | 14 | CG Morey | Rutland, VT | -8.983 |
| 6 | 5 | -1 | 15X | Justin Stone | Middlebury, VT | -9.373 |
| 7 | 10 | +3 | 28 | Jordan McCreadie | Watertown, NY | -9.976 |
| 8 | 8 | 0 | 90 | Dany Gagne | Chateguay, QC | -12.213 |
| 9 | 7 | -2 | 118 | Jim Britt | New Town Square, PA | -13.494 |
| 10 | 9 | -1 | 35B | Francois Bellemare | Trois Rivieres, QC | -13.899 |
Qualifying Flight 1 Results
| POS | Start | Car | Driver | Time | Difference |
| --- | --- | --- | --- | --- | --- |
| 1 | 5 | 44 | Stewart Friesen | 17.257 | 0.000 |
| 2 | 2 | 98H | Jimmy Phelps | 17.347 | -0.090 |
| 3 | 17 | 8H | Max McLaughlin | 17.356 | -0.099 |
| 4 | 1 | 111 | Demetrios Drellos | 17.412 | -0.155 |
| 5 | 15 | 7 | Rick Laubach | 17.443 | -0.186 |
| 6 | 10 | 21A | Peter Britten | 17.518 | -0.261 |
| 7 | 3 | 30 | HJ Bunting | 17.543 | -0.286 |
| 8 | 4 | 21 | Yan Bussiere | 17.580 | -0.323 |
| 9 | 13 | 99L | Larry Wight | 17.617 | -0.360 |
| 10 | 18 | 27J | Danny Johnson | 17.637 | -0.380 |
| 11 | 8 | 60 | Brian Berger | 17.678 | -0.421 |
| 12 | 16 | R70 | Ryan Arbuthnot | 17.949 | -0.692 |
| 13 | 7 | 32R | Ronnie Davis III | 18.012 | -0.755 |
| 14 | 19 | 70A | Alex Payne | 18.056 | -0.799 |
| 15 | 6 | 1 | Andrew Smith | 18.072 | -0.815 |
| 16 | 20 | 215 | Adam Pierson | 18.082 | -0.825 |
| 17 | 14 | 54 | Steve Bernard | 18.164 | -0.907 |
| 18 | 12 | 9T | Will Thomas | 18.293 | -1.036 |
| 19 | 11 | 33 | Louden Reimert | 18.360 | -1.103 |
| 20 | 9 | 44R | Russell Morseman | 18.420 | -1.163 |
Qualifying Flight 2 Results
| POS | Start | Car | Driver | Time | Difference |
| --- | --- | --- | --- | --- | --- |
| 1 | 15 | 88 | Mat Williamson | 17.213 | 0.000 |
| 2 | 6 | 25R | Erick Rudolph | 17.609 | -0.396 |
| 2 | 5 | 8H | Max McLaughlin | 0.000 | 17.213 |
| 3 | 14 | 9S | Matt Sheppard | 17.723 | -0.510 |
| 3 | 2 | 98H | Jimmy Phelps | 0.000 | 17.213 |
| 4 | 8 | 9 | Marc Johnson | 17.808 | -0.595 |
| 5 | 18 | 2L | Jack Lehner | 17.826 | -0.613 |
| 5 | 6 | 111 | Demetrios Drellos | 0.000 | 17.213 |
| 6 | 1 | 44 | Stewart Friesen | 0.000 | 17.213 |
| 6 | 17 | 25P | Michael Parent | 17.833 | -0.620 |
| 7 | 11 | 12S | Darren Smith | 17.898 | -0.685 |
| 8 | 10 | 6S | Matthew Stangle | 17.930 | -0.717 |
| 9 | 20 | 8S | Richard Scagliotta | 18.086 | -0.873 |
| 10 | 16 | 15X | Justin Stone | 18.125 | -0.912 |
| 11 | 1 | 66M | Corbin Millar | 18.143 | -0.930 |
| 12 | 12 | 14 | CG Morey | 18.219 | -1.006 |
| 13 | 7 | 16X | Dan Creeden | 18.341 | -1.128 |
| 14 | 13 | 118 | Jim Britt | 18.422 | -1.209 |
| 15 | 4 | 39C | Kyle Coffey | 18.503 | -1.290 |
| 16 | 19 | 90 | Dany Gagne | 18.526 | -1.313 |
| 17 | 3 | 91 | Felix Roy | 18.626 | -1.413 |
| 18 | 2 | 35B | Francois Bellemare | 18.740 | -1.527 |
| 19 | 5 | 52 | Jessica Power | 19.165 | -1.952 |
| 20 | 9 | 28 | Jordan McCreadie | 19.165 | -1.952 |
| 21 | 21 | 66S | Dexter Stacey | 19.165 | -1.952 |
Hot Laps 1 Results
| POS | Start | Car | Driver | Time | Difference |
| --- | --- | --- | --- | --- | --- |
| 1 | 10 | 21A | Peter Britten | 18.210 | 0.000 |
| 2 | 1 | 111 | Demetrios Drellos | 18.236 | -0.026 |
| 3 | 2 | 98H | Jimmy Phelps | 18.512 | -0.302 |
| 4 | 7 | 32R | Ronnie Davis III | 18.539 | -0.329 |
| 5 | 4 | 21 | Yan Bussiere | 18.724 | -0.514 |
| 6 | 5 | 44 | Stewart Friesen | 18.759 | -0.549 |
| 7 | 3 | 30 | HJ Bunting | 18.903 | -0.693 |
| 8 | 6 | 1 | Andrew Smith | 19.580 | -1.370 |
| 9 | 9 | 44R | Russell Morseman | 19.719 | -1.509 |
| 10 | 8 | 60 | Brian Berger | 19.719 | -1.509 |
Hot Laps 2 Results
| POS | Start | Car | Driver | Time | Difference |
| --- | --- | --- | --- | --- | --- |
| 1 | 5 | 7 | Rick Laubach | 18.221 | 0.000 |
| 2 | 3 | 99L | Larry Wight | 18.286 | -0.065 |
| 3 | 1 | 33 | Louden Reimert | 18.352 | -0.131 |
| 4 | 7 | 8H | Max McLaughlin | 18.433 | -0.212 |
| 5 | 10 | 215 | Adam Pierson | 18.689 | -0.468 |
| 6 | 8 | 27J | Danny Johnson | 18.804 | -0.583 |
| 7 | 4 | 54 | Steve Bernard | 19.245 | -1.024 |
| 8 | 9 | 70A | Alex Payne | 19.254 | -1.033 |
| 9 | 2 | 9T | Will Thomas | 19.484 | -1.263 |
| 10 | 6 | R70 | Ryan Arbuthnot | 19.725 | -1.504 |
Hot Laps 3 Results
| POS | Start | Car | Driver | Time | Difference |
| --- | --- | --- | --- | --- | --- |
| 1 | 10 | 6S | Matthew Stangle | 18.142 | 0.000 |
| 2 | 8 | 9 | Marc Johnson | 18.550 | -0.408 |
| 3 | 6 | 25R | Erick Rudolph | 18.731 | -0.589 |
| 4 | 7 | 16X | Dan Creeden | 18.898 | -0.756 |
| 5 | 9 | 28 | Jordan McCreadie | 19.213 | -1.071 |
| 6 | 4 | 39C | Kyle Coffey | 19.295 | -1.153 |
| 7 | 1 | 66M | Corbin Millar | 19.298 | -1.156 |
| 8 | 2 | 35B | Francois Bellemare | 19.659 | -1.517 |
| 9 | 3 | 91 | Felix Roy | 19.666 | -1.524 |
| 10 | 5 | 52 | Jessica Power | 19.876 | -1.734 |
Hot Laps 4 Results
| POS | Start | Car | Driver | Time | Difference |
| --- | --- | --- | --- | --- | --- |
| 1 | 4 | 9S | Matt Sheppard | 18.079 | 0.000 |
| 2 | 1 | 12S | Darren Smith | 18.234 | -0.155 |
| 3 | 6 | 15X | Justin Stone | 18.416 | -0.337 |
| 4 | 10 | 8S | Richard Scagliotta | 18.447 | -0.368 |
| 5 | 5 | 88 | Mat Williamson | 18.488 | -0.409 |
| 6 | 2 | 14 | CG Morey | 18.729 | -0.650 |
| 7 | 8 | 2L | Jack Lehner | 18.786 | -0.707 |
| 8 | 7 | 25P | Michael Parent | 18.911 | -0.832 |
| 9 | 11 | 66S | Dexter Stacey | 20.439 | -2.360 |
| 10 | 3 | 118 | Jim Britt | 20.533 | -2.454 |
| 11 | 9 | 90 | Dany Gagne | 20.563 | -2.484 |