Max McLaughlin opened the 2023 Super DIRTcar Series season at the Federated Auto Parts DIRTcar Nationals exactly how he wanted.
In Victory Lane at Volusia Speedway Park.
The Mooresville, NC driver led all 30 laps in the first Super DIRTcar Series Feature of the year after drawing the outside pole.
McLaughlin, 22, is no stranger to racing at Volusia or visiting the track's Victory Lane. He came into the night's matchup with two career DIRTcar Nationals Feature victories already and a Big Gator championship (2021).
After charging past pole sitter Erick Rudolph at the start of the Feature, he steadily distanced himself from the rest of the field and became the driver to catch. Nine-time and defending Series champion Matt Sheppard was the strongest threat to challenge him, charging from seventh to second after two laps.
"I was actually able to roll the bottom pretty good, better than some of the guys in front of me," Sheppard said. "I was just able to sneak by really quick."
He continued to chase McLaughlin with little time to spare. And with 10 laps to go, an error by McLaughlin almost played into "Super" Matt's hands. While reaching to pull one tear off from his helmet, McLaughlin accidentally pulled all of them. As clay splatter on his visor each lap, visibility became an issue, causing him to jump the cushion in the closing laps.

Sheppard cut a few tenths of a second into McLaughlin's lead but still didn't have enough to catch "Mad Max."
"Not quite enough for Max at the end, but we could certainly see him," Sheppard said.
McLaughlin crossed the finish line first, winning his third career golden gator trophy.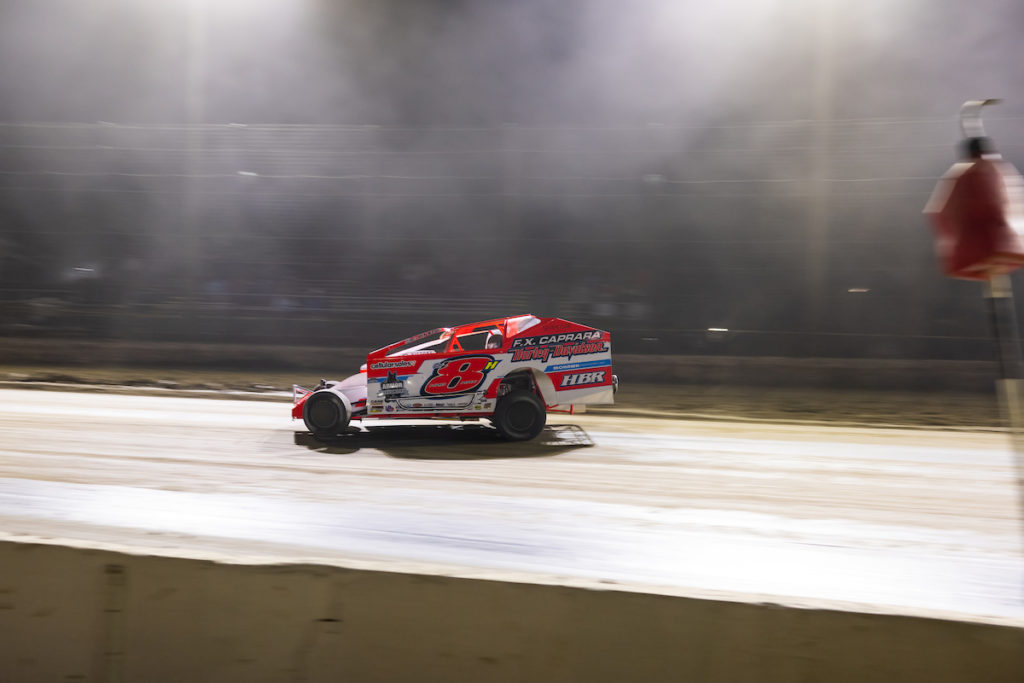 "I was pretty tight there at the end," McLaughlin said. "Definitely would have like to be a little freer to the center. I just caught good breaks and got through lapped traffic pretty good. I was just able to stay out front. It's pretty cool to get the first win right off the bat. First start, first win. We've been working hard and have a great time behind us."
While he was fending off a charging Sheppard, Stewart Friesen was also attempting to charge his way through the pack. After starting on the outside of row three, he made his way into third place by Lap 7. But after taking a risk in where he chose to run failed he had to settle for third.
"We just got bottled up more or less on the top," Friesen said.  "It took us a couple laps to get clear. I just made a couple mistakes once we got to third and lost some track position. It felt pretty decent the last few laps but we were just too far back."
Friesen finished in third, Erick Rudolph finished in fourth, and Demetrios Drellos finished in fifth.
UP NEXT: The Super DIRTcar Series Big Blocks are back in action Thursday, Feb. 16, at Volusia Speedway Park for another 30-lap, $5,000-to-win Federated Auto Parts DIRTcar Nationals matchup.
If you can't make it to the track, you can watch every Super DIRTcar Series race live on DIRTVision – either at DIRTVision.com or by downloading the DIRTVision App.
RESULTS: (30 Laps) – 1. 8H-Max McLaughlin[2]; 2. 9S-Matt Sheppard[7]; 3. 44-Stewart Friesen[6]; 4. 25R-Erick Rudolph[1]; 5. 111-Demetrios Drellos[5]; 6. 88-Mat Williamson[8]; 7. 2L-Jack Lehner[10]; 8. 27J-Danny Johnson[11]; 9. 9-Marc Johnson[4]; 10. 99L-Larry Wight[17]; 11. 98H-Jimmy Phelps[3]; 12. 7-Rick Laubach[13]; 13. 6S-Matthew Stangle[12]; 14. 21A-Peter Britten[21]; 15. 16X-Dan Creeden[18]; 16. 12S-Darren Smith[14]; 17. 30-HJ Bunting[9]; 18. R70-Ryan Arbuthnot[19]; 19. 28-Jordan McCreadie[24]; 20. 14-CG Morey[20]; 21. 15X-Justin Stone[26]; 22. 32R-Ronnie Davis III[23]; 23. 39C-Kyle Coffey[22]; 24. 70A-Alex Payne[15]; 25. 25P-Michael Parent[16]; 26. 33-Louden Reimert[25]