Pastrana, Dotson, Lee, Troutman and more headline newly reformatted event
The single toughest test of endurance in DIRTcar UMP Modified racing hits the half-mile of Volusia Speedway Park this week in the 52nd annual Federated Auto Parts DIRTcar Nationals.
Six-straight days of racing. Over 100 cars expected to compete. All in pursuit of the iconic Big Gator trophy and $5,000 check as winner of the Gator Championship Feature Saturday night.
The event format has been completely overhauled for 2023, featuring six separate Features on each of the first five nights of competition. Monday, Tuesday, and Wednesday's Features will be lined up by Qualifying laps, while Thursday will set the field according to points accumulated by each driver over the previous three nights. Friday's field will be split in half for the Gator Qualifier night before Saturday's Gator Championship.
Read More: Purse Increase, New Format for UMP Modifieds at 52nd DIRTcar Nationals
The driver with the most points at week's end will be crowned the DIRTcar Nationals Big Gator champion and hoist the iconic Big Gator trophy. Drivers will also be earning points toward the UMP Modified Florida Speedweeks championship chase, which crowns its champion after the conclusion of Saturday's Feature.
To get your tickets, visit DIRTcarNationals.com. If you can't make it to the track, you can watch the entire week of Federated Auto Parts DIRTcar Nationals live on DIRTVision.
Here are the drivers to watch for and storylines to follow this week:
NEW GATOR CHAMP – For the first time in seven years, a driver not named Nick Hoffman will hoist the Big Gator trophy as DIRTcar Nationals UMP Modified champion at the conclusion of the week.
Hoffman, who has not missed a DIRTcar Nationals since his Volusia debut in 2009, won the division's event points title every year from 2016-2022. This week, however, he will sit on the sidelines, with his focus on his World of Outlaws CASE Construction Equipment Late Model ride, and be a resource to the several Elite Chassis drivers in the field.
Hoffman will also have the Tye Twarog Racing, NOS Energy Drink #9 Super Late Model with him as he prepares for competition during week #2 of DIRTcar Nationals with the DIRTcar Late Models and World of Outlaws. Hoffman recorded finishes of fourth and eighth in his first two starts as a full-time World of Outlaws driver in January at the DIRTcar Sunshine Nationals.
HORNS UP – If there's one driver among the 100-plus UMP Modifieds expected for the week that's highest amongst the favorites to win the Big Gator trophy, it's Bakersfield, CA-driver Ethan Dotson.
Dotson, the 24-year-old Longhorn Chassis UMP Modified house driver, won t
he ninth annual Emil & Dale Reutimann Memorial in his Volusia debut last November – one day after breaking the 11-year-old track record.
He returns to Volusia this week for his DIRTcar Nationals debut, piloting one of the most well-maintained cars in the pits, backed by Longhorn and the knowledge of multi-time DIRTcar Nationals Feature winner Steve Arpin.
A DOLLAR BET – A multi-time motocross and rallycross champion, and a NASCAR Truck Series champion walk into Volusia. No, really – it's happening. And there's a big bet on the line.
Travis Pastrana will make his DIRTcar Nationals debut this week in a UMP Modified built by 2007 DIRTcar Nationals champion and fellow ex-rallycross racer Steve Arpin and his Longhorn Chassis brand, backed by his partners at Black Rifle Coffee Company. After being asked if he was "too much of a sissy to drive" by fellow Black Rifle Coffee driver Matt Crafton, Pastrana took on Crafton's challenge and made a one-dollar bet with him to see who could finish higher in races throughout the week.
Crafton, a regular of the UMP Modified division at DIRTcar Nationals, will pilot his own K1 RaceGear Elite Chassis #88 against Pastrana's #199, all in pursuit of his first career gator trophy.
POINTS LEADER – Lucas Lee comes into Volusia as the UMP Modified Florida Speedweeks points leader by 17 over second-place Drake Troutman. On the back of three Feature wins and top-10s in all seven races on the Speedweeks trail, Lee now faces his toughest challenge of all at Volusia.
Lee, the defending Speedweeks champion from Paris, TN, historically, has not been as big of a factor at Volusia compared to the other Speedweeks venues. But with a win already at North Florida Speedway (Jan. 29) and two he garnered at East Bay Raceway Park (Feb. 3 and 4) to cap-off Winternationals, he's the one driver going in with more momentum than any Speedweeks championship chaser.
Lee does have one gator trophy on his mantle at home, having captured one of the Gator Qualifier Features at Volusia in 2019.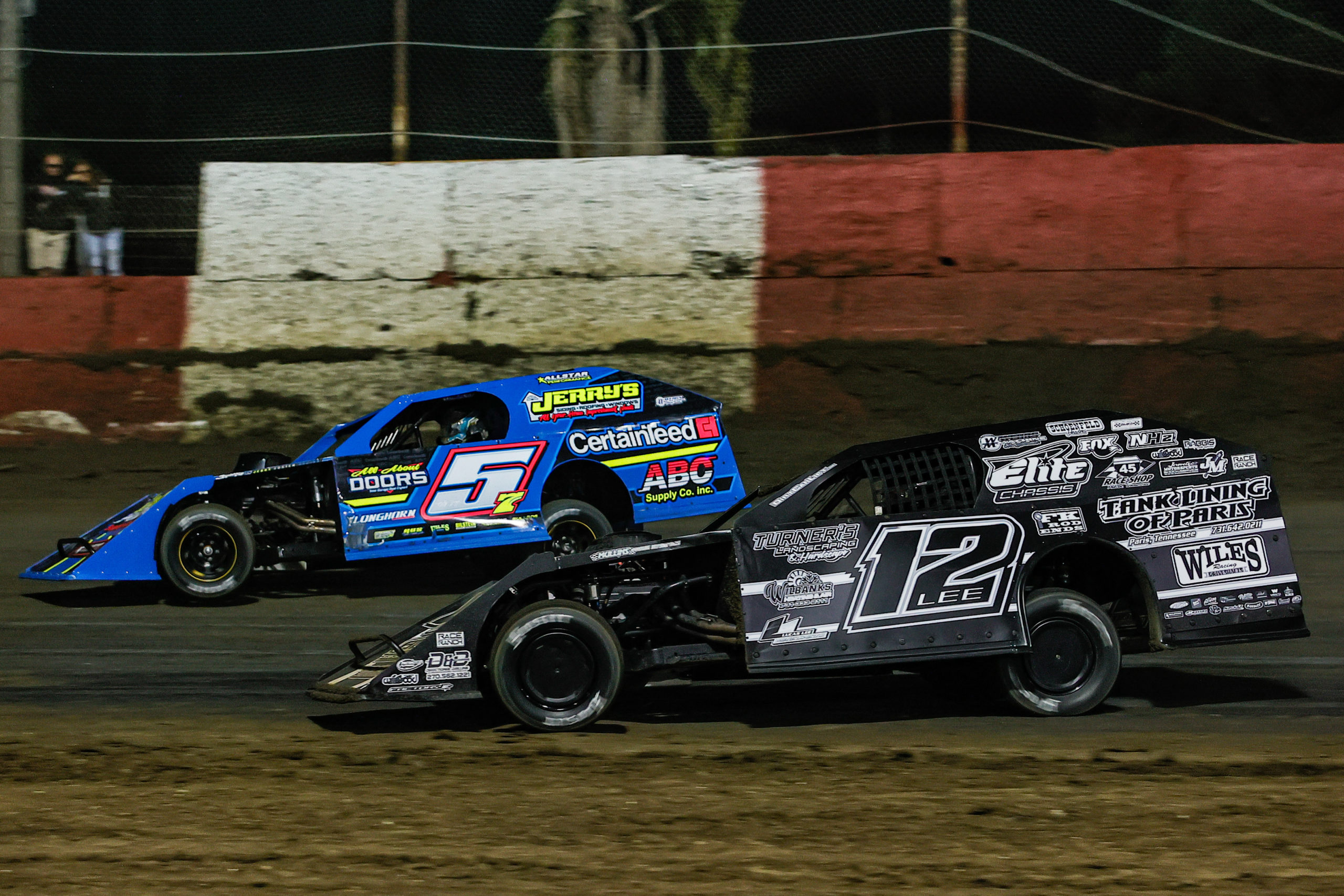 ELITE-IST – Tyler Nicely currently holds onto the third spot in Speedweeks points, currently 60 points back from leader Lucas Lee.
Nicely, the 27-year-old Modified standout from Owensboro, KY, has two wins in seven Speedweeks starts, and has consistently been a contender for the win throughout Speedweeks with top-10 finishes in all but two events thus far (East Bay 2/1 [DNF, 21st]; East Bay 2/4 [DNF, 14th).
Prepared special for this week, Nicely will be armed with a brand-new Elite Chassis built by the seven-time DIRTcar Nationals champion Nick Hoffman in pursuit of his first Gator Championship Feature win and second UMP Modified Florida Speedweeks points title.
THE BIG CATCH – Coming off an action-packed week at East Bay, Drake Troutman rides the Jerry Foster Racing, Longhorn Chassis #5, into Volusia with only a 17-point deficit to points leader Lucas Lee.
Troutman, the 17-year-old racer from Hyndman, PA, got the win on the opening night at East Bay, and nearly did it again Friday night if not for a post-race penalty assessment. Despite the blunder, however, he's the only driver to record top-five finishes in all seven Features thus far.