The Beasts of the Northeast have awakened from their hibernation with an appetite for gators.
Before the championship season kicks off in March, the Super DIRTcar Series will have some fun in the sun for a week's worth of racing at Volusia Speedway Park for the 51st DIRTcar Nationals, Feb. 14-19.
Monday will be a day of practice for the nearly 40-car field of prospective entries before they battle wheel to wheel for the next five straight days. Each night will award the iconic golden gator trophy to the winner and points toward the overall Big Gator Championship. Tuesday through Friday will pay $4,000-to-win and Saturday will pay $5,000-to-win, meaning if fortunate enough, one driver could leave the week with more than $20,000 in their pocket.
The last driver to come closest to that feat was Larry Wight in 2020 when he won three straight nights – becoming only the second driver in the history of the Series to do so (first since 1978).
Wight will be joined by a plethora of talent from across the country including eight-time and defending Series champion Matt Sheppard, 2021 Big Gator champion Max McLaughlin, 2019 Series champion Mat Williamson, 2005 Series champion Tim Fuller, NASCAR star Stewart Friesen, rising stars Jack Lehner, Adam Pierson, Erick Rudolph, Mike Mahaney and more.
DIRTcar Nationals Tickets, CLICK HERE
The Super DIRTcar Series will be accompanied by the DIRTcar Late Models and Xtreme Outlaw Sprint Cars on Monday and Tuesday. Then, the World of Outlaws CASE Late Models will join the Series for the remainder of the week.
If you can't make it to the track, you can watch all the action live on DIRTVision – either online or with the DIRTVision App.
Here are the top stories to follow for the week:
BIG CHAMP AFTER BIG GATOR: Matt Sheppard said he feels like he's due for another win at Volusia Speedway Park. The eight-time and defending Super DIRTcar Series champion, of Waterloo, NY, has three DIRTcar Nationals titles and eight wins, but his last title was in 2016 and his last win was in 2019. He acknowledged his trips to the Florida track can be hit or miss, demonstrated last year by his finishes of 6th, 9th, 5th and 2nd, respectively.
However, this year, he enters the season with the momentum of having set a history-making title in 2021. He surpassed dirt Modified legend Brett Hearn for the most Super DIRTcar Series championships of all time. With that confidence propelling him into the new season, "Super Matt" may find himself making history again at the World's Fastest Half-Mile.
MAX ON REPEAT: Max McLaughlin accomplished a feat last year at 20 years old that some veterans are still struggling to achieve. He first won a golden gator – his second career Super DIRTcar Series win – and then ended the week as the 2021 Big Gator Champion. Now, at 21 years old, with a new team and head full of confidence, the young Mooresville, NC driver has sights on a repeat.
McLaughlin rejoined Heinke-Baldwin Racing – the team that gave him his first shot in the Super DIRTcar Series – this season with the goal of earning the Series title. Feeling back at home, he spent most of his off-season in Weedsport, NY at the team's shop preparing for the new season. Preparing to collect more trophies.
STARTING OFF RIGHT: While the five nights of racing during DIRTcar Nationals may not be points events for the Super DIRTcar Series, they're crucial to many teams who use it as a chance to knock off the rust of the off-season and get back into a racing mentality. For drivers like Mat Williamson, Peter Britten and Jimmy Phelps, who got off to a slow start last year, it's a chance to change that and start 2022 off on the right foot.
Of the three, Williamson is the only one with a couple of wins at Volusia – both coming in 2020. However, last year, he had an average finish of seventh at DIRTcar Nationals and didn't get into a rhythm for the season until about the end of summer, picking up his second consecutive NAPA Super DIRT Week title and ending the year second in points.
Britten and Phelps have come close to snagging a gator trophy but have had to settle for second at best. The Aussie had the better 2021 season of the two, having captured his second career Super DIRTcar Series win, while Phelps went winless for the first time in three years. Starting off the season strong in Florida could give them the momentum needed to challenge for their first championship when the points season starts at Atomic Speedway Park, March 25-26.
FLORIDA FRIESEN: Florida speed weeks is always a busy time for Stewart Friesen, jumping between his Halmar International #44 Big Block Modified and #52 NASCAR Truck throughout the week, but he wouldn't miss the chance to chase more golden gator trophies.
The Niagra-on-the-Lake, Ontario driver is a two-time Big Gator champion (2011, 2014) and a nine-time DIRTcar Nationals Feature winner – most recently picking up two more wins last year. His NASCAR duties Friday night will take him out of contention for the Big Gator title this year, but Friesen plans on being at Volusia every other day throughout the week.
He also enters the week with a slight advantage over the other drivers. New clay was put down on Volusia and Friesen got to make a few laps on it with a Late Model during the World of Outlaws Late Model Series' season-opener in January.
WIGHT RETURNS: After missing DIRTcar Nationals last year, Larry Wight returns to re-stake his claim as the top gator hunter. Prior to his absence in 2021, he claimed the 2019 and 2020 Big Gator titles – adding to his 2015 title. He also won three straight races in 2020 – becoming only the second driver in Series history to accomplish that feat and the first since 1978.
The Phoenix, NY driver will have sole focus from the LJL Racing team this year as it sized down to a one-car team. With the new focus, Wight will look to put his #99L Big Block back in Victory Lane with the Series for the first time in more than a year.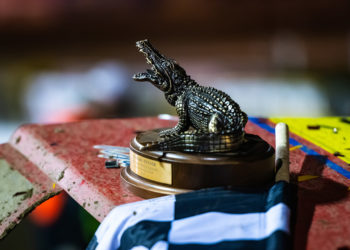 POTENTIAL SURPRISES: Five straight days of racing at the same track provides the potential for new and surprise winners. Last year, Max McLaughlin prevailed on the third night, claiming his second career Series win. Then, on the final night, Michael Maresca brought fans to their feet by outrunning Matt Sheppard and Billy Decker to earn his first career Super DIRTcar Series win.
A long list of drivers entered for the 2022 edition of DIRTcar Nationals has the potential to be the next new or surprise winner. Jack Lehner had a career year with the Super DIRTcar Series in 2021 and picked up his first DIRTcar Big Block win. Adam Pierson, a former Sportsman star, is in the same boat as Lehner, having earned his first Big Block win last year, too. The Vermont driver is planning a trip south as he also eyes a potential full tour with the Series. The possibilities are endless. See the full list of entries below.
PROSPECTIVE DIRTcar NATIONALS ENTRY LIST
Francois Bellemere
Steve Bernard
Jimmy Britt
Peter Britten
Danny Creeden
Marcus Dinkins
Olden Dwyer
Stewart Friesen
Tim Fuller
Justin Haers
Ryan Krachun
Jeffrey Lapalme
Rich Laubauch
Jack Lehner
Mike Mahaney
Max McLaughlin
Corbin Millar
Russell Moresman
CG Morey
Michael Parent
Jimmy Phelps
Adam Pierson
Rich Regalski
Erick Rudolph
Rich Scagliotta
Matt Sheppard
Jeremiah Shingledecker
Andrew Smith
Darren Smith
Matt Stangle
Brian Swartzlander
Jeff Taylor
Rocky Warner
Joseph "Jo Jo" Watson
Mat Williamson
Larry Wight
Jimmy Zacharias
PAST DIRTcar NATIONALS CHAMPIONS
2021 – Max McLaughlin
2020 – Larry Wight
2019 – Larry Wight
2018 – Tim McCreadie
2017 – Brett Hearn
2016 – Matt Sheppard
2015 – Larry Wight
2014 – Stewart Friesen
2013 – Danny Johnson
2012 – Matt Sheppard
2011 – Stewart Friesen
2010 – Matt Sheppard
2009 – Pat Ward
2008 – Brett Hearn/Billy Pauch
2007 – Danny Johnson
2006 – Brett Hearn
2005 – Brett Hearn/Andy Bachetti
2004 – Pat Ward
2003 – Tim Fuller
2002 – Brett Hearn
2001 – Brett Hearn
2000 – Brett Hearn
1999 – Jimmy Horton
1998 – Brett Hearn
1997 – Jimmy Horton
1996 – Brett Hearn
1995 – Doug Hoffman
1990-1994 – No champion
1989 – Alan Johnson
1988 – Danny Johnson
1987 – Danny Johnson
1986 – Jimmy Horton
1985 – Billy Pauch
1984 – Kenny Brightbill/Jack Johnson
1983 – Alan Johnson
1982 – Jeff Kappesser/Billy Pauch
1981 – Jack Johnson
1980 – Kenny Brightbill
1979 – No champion
1978 – Walt Breeding
TRACK FACTS
Volusia Speedway Park
Configuration: Semi-banked, Half-mile
Big Block Track Record: 16.754 sec. set by Jamie Mills in 2015
# of Big Block Features: 135
First Big Block Feature: Feb. 10, 1978
Website: VolusiaSpeedwayPark.com
AROUND THE TURN:  The Super DIRTcar Series will kick off its championship season at Atomic Speedway, March 25-26, for the Super DIRTcar Series Showdown doubleheader. Friday night will pay $10,000-to-win and Saturday night will pay $12,000-to-win. Both nights will also award a 50th NAPA Super DIRT Week guaranteed starting spot.