Ryan Harrison and his family have made a tradition of venturing from their North Hampshire home in England to Volusia Speedway Park in Florida for Speedweeks the last few years.
This year, he'll be a part of it, racing with the United Sprint Car Series during the inaugural Germfree Southern Sprint Car Shootout, Jan. 26-28.
The Englishman has made the trip across the pond to race Sprint Cars for the past five years, but this season will mark his first opportunity to race at "The World's Fastest Half-Mile." And to make sure he's coming with the best equipment possible; he's purchased a car from NASCAR driver Alex Bowman, which was built by iconic Sprint Car mechanic and engine builder Joe Gaerte.
It's not a cheap venture, though. Roundtrip tickets from England to Orlando – where is car and trailer are stored – can cost more than $1,500. There are a few hundred dollars in tires and fuel. Then, the purchase of the car and motor is a five-digit number alone.
But the thrill of the journey and passion he's built for the sport has made it all worth it each time.
"The whole involvement of the whole thing," he said. "The car prep. Working on it. The people involved with it. The organizations. The way it's run. It's very professional. The speed. I love everything about it. As soon as you turn up to the track, it's like, 'Wow.'"
Harrison has been racing for 15 years, mostly BriSCA F1 Stock Cars in the UK. By random occurrence a few years back, Bob Hackel, who races Northeast modifieds in the America, saw a picture of Harrison's BriSCA F1 on Facebook and messaged him to say, "Cool car." Harrison thought the same of Hackel's modified and return the favor, a simple conversation that led to a new adventure.
"Within a week of speaking to him on Facebook messenger, he offered me a ride in his Sportsman," Harrison said. "He said, 'What you have to do is come over, put fuel in the car, pay for the damage and pay for the tires.' Within a week, I was booked, I was in a plane. I went to a four-day event.
"I had a load of fun. He said, 'Why don't you buy one and keep it here?' I said, if I was to do anything I'd really like a Sprint Car. He said, 'Well, buy a Sprint Car then and keep it here.' It sounds crazy, but within a week or two, my dad was on a plane, he was going to New York and we bought a Sprint Car from someone in New York."
Harrison ran 11 races with the Empire Super Sprint Series in the Northeast between 2018 and 2019. Then, a family friend of Hackel, who lived in Orlando, let Harrison keep his car and trailer at his place so he could race in Florida during Speedweeks.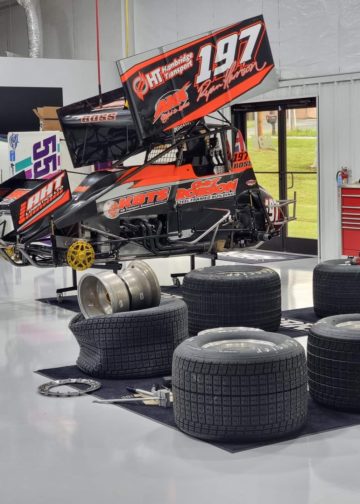 He's been able to build his Sprint Car program each year. He went from trying to make a show to searching for top-10 finishes, then top-five finishes and now wins. He picked up his first Sprint Car victory last year with the United Sprint Car Series at Travelers Rest Speedway in South Carolina.
This year, with the car he's purchasing from Bowman – which was driven by the NASCAR driver a few times in 2022 – Harrison will have a two-car program. One will be his main car, the other will be his backup.
While he has that safety net, he still emphasized he can't afford to flip or wreck his equipment. That could be the difference between a successful trip or a short one.
"We obviously don't have endless amounts of money," Harrison said. "It's costing us a small fortune being over there. Plus being away from work. Kind of a double whammy. So, we're putting a lot of time and effort into doing it. I can't afford to wreck it. I have to be really smart with driving. I can't afford to be upside down. If that happens, the trips are going to be less and less. We never book a trip until we finish the first one. Once we finish, as long as everything is intact, we'll plan the next one before we leave."
Harrison has several sponsors that support him, all from the UK. Many of which will travel to the U.S. with him to watch him race.
He initially told himself he would only do the traveling back and forth for three years. But he can't get enough of it, he said. All he wants is more.
"I'm like foaming at the mouth," Harrison said about coming back this year. "I'm ready for it. Come on let's go. You enjoy the whole trip. You enjoy being on the road, looking around the country. Big [semitrucks] doing 75 mph, and you're like, 'This is crazy.' We're living the dream. That's all we can say, we're living the dream. As long as we can live it, we will."
The Germfree Southern Sprint Car Shootout will feature the United Sprint Car Series' first time back at Volusia Speedway Park in 18 years. To watch Harrison and the rest of the Sprint Car stars in the show, tickets will be available at the gate.
If you can't make it to the track, you can watch all the action live on DIRTVision.